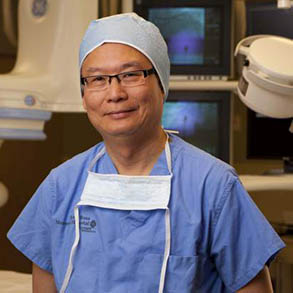 Peter Chang-Sing, M.D., QME
---
Cardiology, Clinical Cardiac Electrophysiology
BIOGRAPHY
Chief, Section of Cardiac Surgery & Cardiovascular Medicine, Santa Rosa Memorial Hospital Director, Cardiac Electrophysiology Lab, Santa Rosa Memorial Hospital
Dr. Peter Chang-Sing is one of the most experienced clinical cardiac electrophysiologists in Northern California as well as a highly respected research investigator whose clinical trial partnerships with leading medical device companies have led to new technologies in heart rhythm management. He performed the first electrophysiology cases offered in Sonoma County at Santa Rosa Memorial Hospital, and has since performed thousands of procedures with excellent results.
A Phi Beta Kappa graduate of Stanford University, Dr. Chang-Sing is board certified in clinical cardiac electrophysiology, cardiology and internal medicine. Dr. Chang-Sing's studies and articles have appeared in numerous medical and scientific journals including the American Journal of Cardiology, the American Journal of Physiology, Circulation, Molecular Pharmacology, Cardiology Clinics and Sonoma Medicine. He is an advisory board member for Medtronic and St. Jude Corporations, and a member of the American College of Cardiology, the California Medical Association and the Heart Rhythm Society.
UNDERGRADUATE EDUCATION
Stanford University, B.S., Biological Sciences, Stanford, California
GRADUATE EDUCATION
Stanford University, M.S., Electrical Engineering, Stanford, California
Harvard University, PhD, Physiology & Biophysics, Cambridge, Massachusetts
MEDICAL EDUCATION
Yale University School of Medicine, M.D., New Haven, Connecticut
Read more